Top 7 TV shows for catching good live music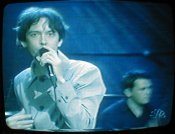 Ever since high school I've been collecting music videos and live TV performances whenever I can. But two innovations have made this hobby much more fruitful as of the last 5 years: The internet (heard of it?) and digital cable. With the internet, I can find out exactly who will be appearing on what show by checking out the
RockonTV guide
, an older service that was recently taken over by VH-1. Meanwhile, if you find it within your means to upgrade to digital cable, you'll find all sorts of gems. Here are seven TV shows whose listings I've found worthwhile to keep checking:
7. Late Night with David Letterman (TRIO, weeknights). That's not a typo. I mean the old Late Night on NBC from the 80s and early 90s. Worldwide Pants has licensed a handful of old episodes to be shown in syndication on this digital cable network. Trio is the best digital cable offering, top-to-bottom, but that's for another post. Thanks to reruns of Dave's old show, I have R.E.M. playing Radio Free Europe in their first national TV appearance, some Elvis Costello, not to mention my sister's few minutes of fame in Viewer Mail. Let's hope they release more of his archives - the entertainment could be endless.


6. Late Show with David Letterman (CBS, 11:35pm EST). His current competitor on NBC doesn't even warrant a passing mention. But Dave still manages to keep in touch with the hip crowd by booking the occasional interesting band. Letterman is where you might expect a solid live performance from the more famous indie/formerly indie artists like Wilco, Beck, or The Flaming Lips. As little as 5 years ago, you could have seen Elliott Smith and Cat Power, and I think we can expect more good things from him before he retires.


5. Late Late Show with Craig Ferguson (CBS, 12:35am EST). Craig's predecessor, the smarmy Craig, rarely would book anybody I was interested in. But even though Craig mk. II is older and British, he has already managed to win my attention as I peruse the TV Guide. This is where Dinosaur Jr. made their national TV debut recently.


4. Later with Carson Daly (NBC, 1:35am EST). Surprised? Don't usually stay up late enough to catch Carson, or never had any interest? Well, give him a try. Carson obviously is a music fan, given his career, and his show walks the gamut from hip hop to indie. Expect acts on par with Iron and Wine and Matt Pond.


3. Late Night With Conan O'Brien (NBC, 12:35am EST). Conan is going HD fulltime starting next week. That means better picture and better sound, and the better for me to record. And that makes me particularly happy because among late night TV shows, Conan still kicks out the jams best. I give him extra props because his own personal musical tastes are reflected in there somewhere. He seems to genuinely enjoy some of the music he hosts.


2. Austin City Limits (PBS, ). ACL has recently re-invented itself, just as PBS has been trying to do across the board. They know that younger equals a larger audience and underwriting. This would explain why The Flaming Lips, The Shins, Wilco, and Guided By Voices were all part of the 2004 ACL line-up. There are no commercials, you can enjoy at least five songs per artist, and it's all in High Definition with 5.1 surorund sound. Glorious.


1. Later with Jools Holland (OVATION, Fri. 8pm EST). When it comes to true alternative music, Jools Holland is the only choice. He has reggae, Tom Jones, brit pop, and emerging underground artists. I got digital cable practically just for Jools Holland on BBC-America a couple of years ago, but then they switched their format to British crime dramas and makeover shows and squeezed him off the air. I was ecstatic to learn that Ovation has just picked him up this year. Welcome back to America Jools!